Chain Link
Versatility is defined as the ability to adapt or be adapted to many different functions or activities. When it comes to fencing, chain link has remained a proven and versatile solution over the years. It's strength and durability makes this a cost effective and maintenance-free way to protect your environments.
Recreational - Chain Link
Galvanized chain link fence is a strong and durable product that is maintenance-free and is a cost-effective way to add security and determine property lines. Our experience and knowledge extend into recreational and specialty applications including School Yards, Cemeteries, Community Parks, Baseball Diamonds & Backstops, Hockey Rinks, Tennis Courts and Golf Courses. We are proud to work with local, Northwestern Ontario and Northern communities on various projects that enhance facilities enjoyed by many. Our experienced staff will provide support in design, budget and requirements suited for your project.
Features
Assists in controlling and screening entries to secured areas
Framework is manufactured from hot dip galvanized (corrosion resistant) steel pipe
Mesh is manufactured from heavy gauge galvanized wire
Rigid, flexible & durable
Follows grade changes
Low maintenance & cost effective
Options
Enhance the look of your industrial chain link fence with coloured vinyl coated mesh and framework
Our Special Projects division is equipped to assist with unique additions and customized solutions
Please take the time to check out our gallery which highlights some of our completed work
Technical Specifications
Gauge: Refers to the diameter of the wire used to produce the fabric; the higher the gauge number the smaller the wire diameter.
Mesh Size: Is the clear distance between parallel wires forming a diamond; the smaller the mesh size, the tighter the fabric
Selvage: Refers to the way the individual ends of the wire are finished after being woven together. The wire can be "knuckled" to avoid sharp ends or "Twisted" when more security is required.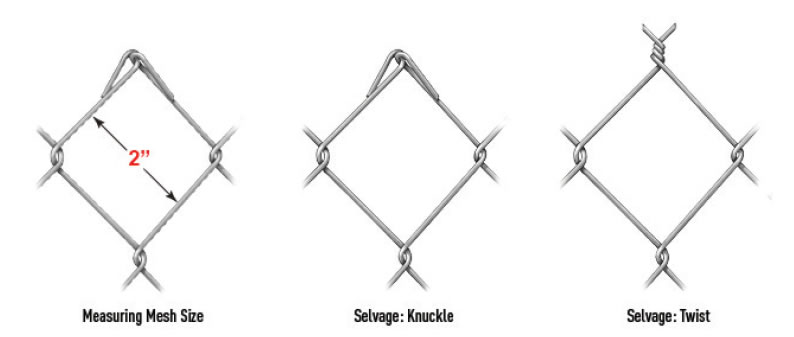 Recreational / Industrial Chain Link
Finish
Galvanized (optional Vinyl Coat)
Fence Height
4', 5', 6', 7', 8', 10'. 12'+
Chain Link Fabric
2" x 2"
9 guage .134 - Commercial Standard
9 guage .145 - City Spec
6 guage - Hydro Spec
Selvage
Knuckle/Twist
Knuckle/Knuckle
Spacing
10' on centre
Top Rail
1 5/8" / 1 11/16"
Line Posts
2 3/8"
Terminal Posts (End, Gate, & Corner)
2 7/8"
3 1/2"
4 1/2"
Strength Options
WT-20 & WT-40
WT-20
WT-20 fence framework is the ideal pipe for industrial and commercial jobs. The advanced in-line coating process ensures the highest standard of corrosion resistance. WT-20 high-strength guarantees performance to meet your customers' needs.
Fence
Industry
Decimal OD
Equivalent
Pipe Wall
Thickness
Weight

OD
inches / mm
inches / mm
lb/ft / kg/m
1 3/8"
1.315 / 33.40
0.080 / 2.03
1.06 / 1.57
1 5/8"
1.660 / 42.16
0.085 / 2.16
1.43 / 2.13
1 7/8"
1.900 / 48.26
0.090 / 2.29
1.74 / 2.59
2 3/8"
2.375 / 60.33
0.095 / 2.41
2.32 / 3.45
2 7/8"
2.875 / 73.03
0.110 / 2.79
3.25 / 4.84
WT-40
The strength and corrosion characteristics of WT-40 fence pipe have been tested, documented and certified by independent testing agencies to ensure complete compliance with ASTM F1043, Group 1C, and AASHTO M181. WT-40 fence framework meets or exceeds the most demanding specifications and codes imposed by private, independent, and government agencies.
Fence
Industry
Decimal OD
Equivalent
Pipe Wall
Thickness
Weight

OD
inches / mm
inches / mm
lb/ft / kg/m
1 5/8"
1.660 / 42.16
0.111 / 2.82
1.84 / 2.74
1 7/8"
1.900 / 48.26
0.120 / 3.05
2.28 / 3.39
2 3/8"
2.375 / 60.33
0.130 / 3.30
3.12 / 4.64
2 7/8"
2.875 / 73.03
0.160 / 4.06
4.64 / 6.91
3 1/2"
3.500 / 88.90
0.160 / 4.06
5.71 / 8.50
Get a Quote