Chain Link Fence Winnipeg
If your only memory of chain link is trying to climb the school yard fence, ripping your jeans on the top and nursing the bleeding on your bottom, it's time to take another look. Chain link provides an exceptional, cost effective way to protect your home. The future is now. This time, get peace of mind as you cover your assets. #justiceforchainlink
Chain Link Fences
With a long reputation for endurance and strength, chain-link is one of the most widely used fence systems today and offers cost effective and economical solutions for residential, commercial and industrial applications.
GBW fabric, also referred to as Galvanized Before Weaving, is produced from wire which is first galvanized with a zinc coating and then woven into fabric. Prior to weaving, the wire is cleaned and drawn through a bath of molten zinc using the hot-dip process. The wire goes through several wiping stations to ensure a clean and even coating around the entire surface resulting in flexible joints and ease of installation.
Wallace + Wallace manufactures, distributes and professionally installs residential chain-link fence systems throughout Manitoba and Northwestern Ontario. Want to DIY? Replacing parts and pieces or a full fence package? We are happy to assist you with your project. Our kits come complete with chain-link fabric, posts, top rail, fittings, bottom wire and ties and you can even borrow our post pounder tool to make the job easier.
Features
Surround pools, gardens, define property lines and contains animals
Rigid, flexible and durable
Follows grade changes
Low maintenance and cost effective
Options
For added privacy, specially designed Privacy Slats can be inserted into the chain link mesh
Improve your standard galvanized fence with coloured vinyl chain-link infill
Take a look at our Vinyl Chain Link Fencing page for more details for a "Full Colour" look
A standard gate width for a single swing style is 42"
A standard gate width for a double swing style is 120"
Gates are available in custom widths, request a quote with your Wallace Rep today!
Technical Specifications
Gauge: Refers to the diameter of the wire used to produce the fabric; the higher the gauge number the smaller the wire diameter.
Mesh Size: Is the clear distance between parallel wires forming a diamond; the smaller the mesh size, the tighter the fabric
Selvage: Refers to the way the individual ends of the wire are finished after being woven together. The wire can be "knuckled" to avoid sharp ends or "Twisted" when more security is required.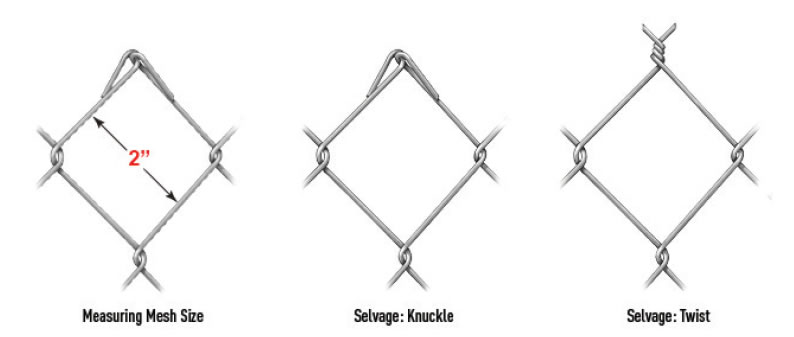 Residential Chain Link Kits
| Galvanized | Heights (Feet): 3', 3.5', 4', 5', 6' |
| --- | --- |
| Chain Link Fabric | 2" x 2" x 9 or 11 Gauge Galvanized |
| Selvage | Knuckle/Knuckle |
| Spacing | 8' on Center |
| Top Rail | 1 5/16" x 10' 3" x 17 Gauge Swedged End |
| Line Posts | 1 7/8" O.D. x 17 Gauge |
| Terminal Posts (End, Gate, & Corner) | 1 7/8" O.D. x 17 Gauge OR 2 3/8" O.D. x 17 Gauge |
Get a Quote