Vinyl Chain Link Fences Winnipeg
If your only memory of chain link is trying to climb the school yard fence, ripping your jeans on the top and nursing the bleeding on your bottom, it's time to take another look. Chain link provides an exceptional, cost effective way to protect your home. The future is now. This time, get peace of mind as you cover your assets. #justiceforchainlink
Vinyl Coated Chain Link Fences
Vinyl-coated chain link is the newest innovation in chain link fencing. Vinyl presents an overall cleaner appearance and is known to blend into the surroundings and is an attractive alternative to the standard chain link fence. Our Vinyl-coated chain link mesh is made with galvanized wire that is covered before it is woven. All of the posts, rails, caps and fittings are powder coated to match the colour of the wire mesh.
Features
Colour matching framework, fittings, and gates
Available in Black
Improved durability with a stronger gauged wire
Rigid, flexible and durable
Follows grade changes
Low maintenance and cost effective
Options
For added privacy, specially designed Privacy Slats can be inserted into the chain link mesh
A standard gate width for a single swing style is 42". A standard gate width for a double swing style is 120"
Gates are available in custom widths; request a quote with your Wallace Rep today!
Technical Specifications
Gauge: Refers to the diameter of the wire used to produce the fabric; the higher the gauge number the smaller the wire diameter.
Mesh Size: Is the clear distance between parallel wires forming a diamond; the smaller the mesh size, the tighter the fabric
Selvage: Refers to the way the individual ends of the wire are finished after being woven together. The wire can be "knuckled" to avoid sharp ends or "Twisted" when more security is required.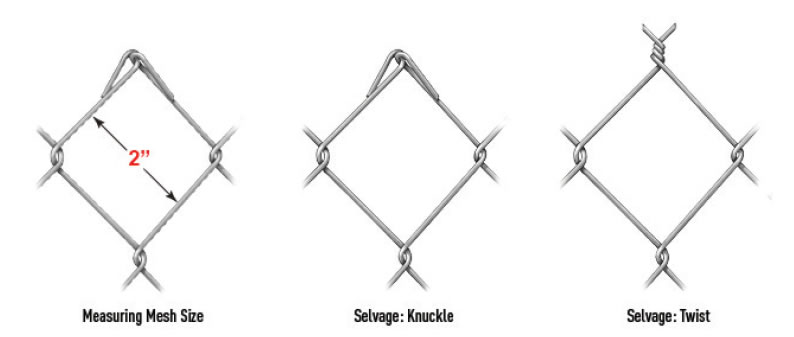 Residential Vinyl Chain Link Kits
| Vinyl Coated | Heights (Feet): 3', 3.5', 4', 5', 6' |
| --- | --- |
| Chain Link Fabric | 2" x 2" x 9 Gauge Vinyl Coated (Coloured) |
| Selvage | Knuckle/Knuckle |
| Spacing | 8' on Center |
| Top Rail | 1 5/16" x 10' 3" x 17 Gauge Swedged End |
| Line Posts | 1 7/8" O.D. x 17 Gauge |
| Terminal Posts (End, Gate, & Corner) | 1 7/8" O.D. x 17 Gauge OR 2 3/8" O.D. x 17 Gauge |
Get a Quote